Personalized solutions & impeccable customer service
Georgia and Tennessee families have come to the reliable experts at King Door for decades for all of their garage door needs.
Since 1963, our experienced technicians have offered unique, high-quality solutions in a friendly, timely manner. Every technician on our team has gone through extensive training for installations, repairs, and customer service, so you can count on us every single time.
We take pride in our work to ensure that every one of our products are the best on the market. Each member of our staff goes above and beyond garage door service by developing trusting customer relationships, which is why we've grown a family of returning customers in the Dalton community!
Here to serve the Dalton community
Since 1963, we've taken great pride in Northwest GA and Tennessee homeowners trusting our team. We're dedicated to bettering our community, so we ensure that all of our products and services are of the highest quality.
For more than 59 years, King Door has aided countless customers with our garage door installations and repairs to guarantee your safety. Each garage door we build is made with our customers' needs and goals as our top priority. We understand the vital role a properly functioning garage door plays in your daily life, so we offer 24/7 same day emergency service to keep your mind at peace.
Who We Serve
King Door didn't become the leading garage door company in Dalton by chance.
Our technicians' extensive training and unmatched expertise are available whenever you need it. Every product we install is of the highest quality, assuring that your garage door is secure for years to come.
Residential
Our residential garage doors add the finishing touch to any style of home. Plus, you can completely customize your door to perfectly complement your home and lifestyle.
New Products
Service, Repair, & Maintenance
Commercial
With a focus on the safety and security of an integrated commercial door and operator system for your workplace, King Door products and services make operating your facility safer and easier.
Installation
Service, Repair, & Maintenance
Service Area
King Door is honored to serve homeowners in the Northwest GA and Tennessee Area.
Who We Are
Honesty and integrity are at the core of our business, so we emphasize the quality of our customer service.
When you come to King Door for an installation or repair, we can assure your satisfaction with the end result and your experience.
Over the past 59+ years, we've built a reputation based on trust. Each of our trained technicians work hard every day to maintain this reputation. Experience the unmatched service that Dalton homeowners are raving about for yourself!
A Legacy of Quality
As the area's leading garage door provider, we don't skimp on the details.
We've led the industry for decades, so each of our products is made with the highest quality materials on the market. We pair these products with our highly trained professionals to offer innovative solutions for your specific needs.
Same Day Service
We understand the stress that comes with a broken garage door, so we offer 24/7 emergency service.
Contact us through our emergency line so we can get your day back on track as soon as possible. Whether you need a new part or a large replacement, we have you covered.
A Responsible, Community-Focused Brand
As Northwest GA and Tennessee's go-to for all things garage door, we understand the importance of offering the same amazing quality every time.
Since we opened our doors in Dalton, we've connected with out hometown by becoming a dependable friend for our neighbors.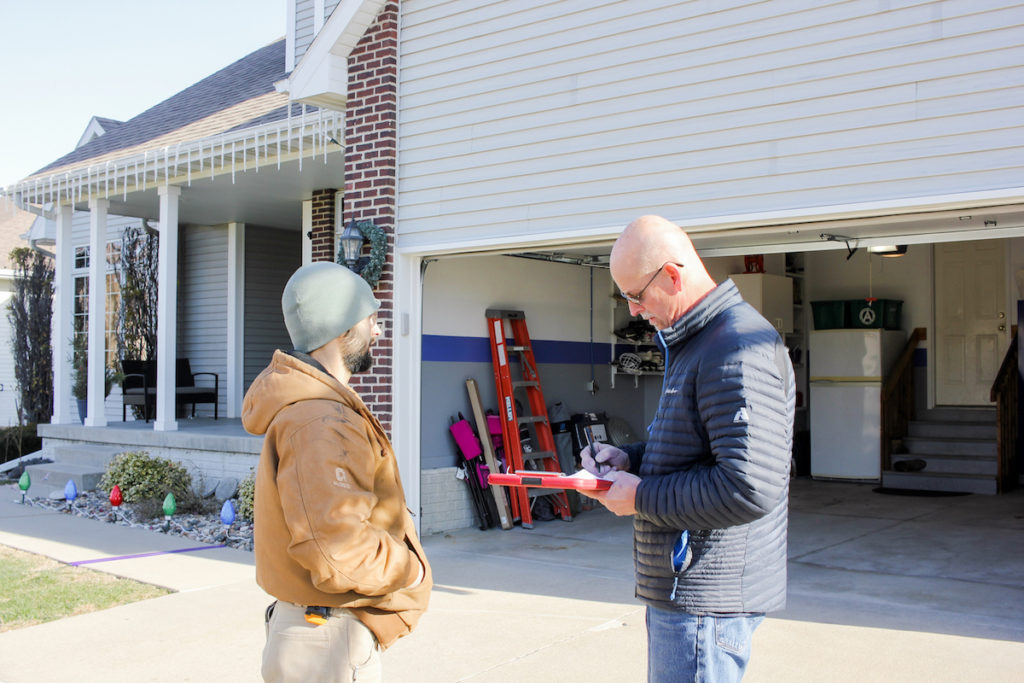 The Team
Meet the people who make us the most trusted local garage door company
Not only can you expect an unmatched quality of services and products from King Door, but also impeccable courtesy and honesty from our technicians. We equally value the quality of our products and customer service to ensure your satisfaction with every visit. The heart of our business is the customers, so we look forward to surpassing your expectations.
Give your curb appeal an upgrade
See for yourself what makes our team the go-to for all your garage door needs in Dalton, from quality customer service and access to the most innovative technology.
Have Questions?
Our experts are standing by to answer any questions you have about purchasing a new garage door in Northwest GA and Tennessee.